BookmarkDirect
BETTER VALUE
Minimum order value: £75
All prices are exclusive of VAT
FREE DELIVERY Within The UK and Northern Ireland
| HOME | Green | Paper
|
Envelopes | Labels | LargeFormat |
FCBoards
| Packaging |
UPM DigiColour UNCOATED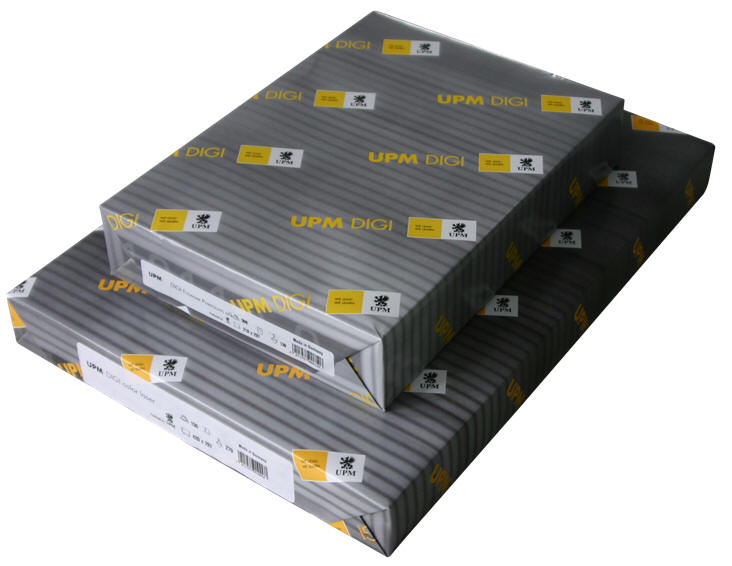 UPM DigiColour is the new name for Yes Color Copy. UPM DigiColour is produced by UPM, the leading Finnish forest products group. Both, the coated and uncoated versions of this paper are formulated to give optimum results with colour printers using powder toner such as laser and digital printers as well as modern photocopiers.

Click here to order free samples
Click here for the Gloss and Silk Coated UPM DigiFinesse.
.
UPM DigiColour (UNCOATED)
Item No
Size (mm)
Substance (g/m²)
Sheets / carton

£ per carton

10+

5-

9

1 - 4
51818
A4 (210x297)
90
5 x 500
25.90
28.55
28.95 / box
5.79 / pack
51807
A4 (210x297)
100
5 x 500
27.90
31.00
31.50 / box
6.30 / pack
51811
A4 (210x297)
120
8 x 250
28.96
30.96
31.46 / box
3.93 / pack
51812
A4 (210x297)
160
6 x 250
28.14
31.98
32.64 / box
5.44 / pack
51813
A4 (210x297)
190
5 x 250
26.90
28.55
28.95 / box
5.79 / pack
51814
A4 (210x297)
250
8 x 125
29.68
37.20
37.60/ box
4.70/ pack
51817
A4 (210x297)
300
7 x 125
30.80
35.21
35.70 / box
5.10 / pack
51801
A3 (297x420)
100
3 x 500
34.38
36.06 / box
12.02 / pack
51802
A3 (297x420)
120
6 x 250
42.30
46.50 / box
7.75/ pack
51803
A3 (297x420)
160
4 x 250
39.16
41.80 / box
10.45 / pack
51804
A3 (297x420)
190
3 x 250
32.31
34.59 / box
11.53/ pack
51805
A3 (297x420)
250
3 x 200
34.08
36.63/ box
12.21/ pack
51863
SRA3 (320x450)
90
1 x 500
14.18
14.90
51819
SRA3 (320x450)
100
1 x 500
14.49
15.90
51820
SRA3 (320x450)
120
1 x 250
8.71
8.72
51821
SRA3 (320x450)
160
1 x 250
11.46
12.21
51822
SRA3 (320x450)
190
1 x 250
12.93
13.86
51823
SRA3 (320x450)
250
1 x 200
9.30
10.18
51824
SRA3 (320x450)
270
1 x 150
12.53
14.35
51830
SRA3 (320x450)
300
1 x 125
11.55
12.41
Minimum order: 1 pack
| HOME | Green | Paper
|
Envelopes | Labels | LargeFormat |
FCBoards
| Packaging |