BOOKMARKDirect
BETTER VALUE
Minimum_order value: £95 Net
All prices are exclusive of VAT
FREE NEXT-DAY DELIVERY
Within the UK Northern Ireland
For prices on larger quantities please contact sales office.
| HOME | Green | Paper

|

Envelopes | Labels | LargeFormat | FCBoards | Packaging | Toners |
XEROX COLORPRINT Uncoated Paper
FSC Certified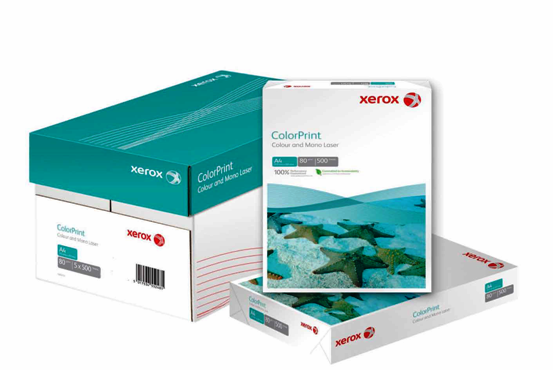 Xerox ColorPrint is a smooth high white paper ideal for printing everyday office documents in colour. Xerox ColorPrint is optimised for digital printing and can be used all around the office on typical desktop or multi-functional printers.
FSC and EU Ecolabel certfied.
XEROX COLORPRINT A4 (Long grain)
Item
Xerox code
Weight (g/m²)
Sheets / Carton
£ / Carton
.£ / Carton
.£ / Carton
40+
20 - 39
1-19
62999
003R95248
80

2500 (.5.x.500.)

18.43

63006
003R95254
90

2500 (.5.x.500.)

21.10

62994
003R95256
100

2000 (.4.x.500.)

18.42

62997
003R96602
120

2000 (.4.x.500.)

22.46

65853
003R95294
160

1250(.5.x.250.)

21.38

.
XEROX COLORPRINT A3 (Short grain)
Item
Xerox code
Weight (g/m²)
Sheets / Carton
£ / Carton
.£ / Carton
.£ / Carton
20 +
10 -19
1 - 9
62998
003R95249
80

2500 (5.x.500)

37.88

63005
003R95255
90

2500 (5.x.500)

44.75

62992
003R95257
100

2000 (4.x.500)

38.28

62995
003R96603
120

2000 (4.x.500)

46.98

65852
003R95295
160

1250(5.x.250)

41.74

.

Minimum order quantity: 1 carton

XEROX COLORPRINT SRA3 (Short grain)
Item
Xerox code
Weight (g/m²)
Sheets / Carton
£ / Carton
.£ / Carton
.£ / Carton
20 +
10 -19
1 - 9
65694
003R98221
80

2000 (4.x.500.)

40.70

65697
003R95545
90

1500 (3.x.500)

33.22

65685
003R98223
100

1500 (3.x.500)

36.92

65689
003R98224
120
1000(4.x.250)

30.14

65690
003R93346
160
750 (3.x.250)

31.19

.

Minimum order quantity: 1 carton

XEROX COLORPRINT SRA2 (Long grain)
Item
Xerox code
Weight (g/m²)
Sheets / Pack
£ / Pack
1 +
65646
003R95399
100

500

22.95

65688
003R95401
120

250

13.94

.

Minimum order quantity: 1

pack
| HOME | Green | Paper

|

Envelopes | Labels | LargeFormat | FCBoards | Packaging | Toners |